Reverse Mortgage Counseling
Reverse Mortgage Counseling.
Knowledgable, experienced, and friendly staff
Little or no waiting for appointments
Certificates issued within 24-48 hours after counseling
Face-to-face counseling available in MA, CT and NY - Phone counseling nationwide
Complete the form below to schedule your appointment.
Need help or have questions? Call a Reverse Mortgage Counselor Now at (800) 757-1788.
What is a Reverse Mortgage?
In general, a "Reverse Mortgage" is a loan taken against your home that you are not required to pay back until you sell your home, move out of the home permanently, or the last surviving borrower passes away. A Home Equity Conversion Mortgage (HECM) is a type of reverse mortgage loan, the difference being that a HECM loan is insured by the Federal Housing Administration (FHA), which is part of the U.S. Department of Housing and Urban Development (HUD). Since HECM loans are supported by the federal government, the costs and fees associated with the loan are limited and the borrower is assured that the lender will meet their obligations. Also, HECM loans usually have lower interest rates, provide the highest loan advances, and generally cost less than other types of reverse mortgages.
What are the qualifications to obtain a reverse mortgage?
To qualify for a Reverse Mortgage, the borrower must be 62 years of age or older, and have substantial equity in their home. In addition, lenders require that borrowers receive counseling from a HUD-approved counseling agency prior to receiving their loan.
What is a reverse mortgage used for?
The funds obtained from a Reverse Mortgage are typically used to:
Maintain financial independence
Supplement Social Security income
Pay for day-to-day living expenses
Cover the cost of medical bills and prescriptions
Why do I need reverse mortgage counseling?
As with every major financial decision you make, it's important that you are fully aware of all aspects of Reverse Mortgages. For this reason, lenders require you to undergo an in-depth counseling session with a certified Reverse Mortgage Counselor. Cambridge's counselors are nationally certified specialists who have been trained to provide you with the information you need to make the right decision and to help you fully understand the loan process. Keep in mind, the counseling session usually takes about an hour, sometimes longer.
The objectives of the session are to educate you about the implications of a Reverse Mortgage - how they work, and the possible alternatives. Your counselor will discuss your needs and circumstances, your responsibilities, the associated costs of a Reverse Mortgage, the tax implications, and provide you with the guidance and resources you need to make an informed decision.
About Cambridge's Reverse Mortgage Counseling Division
Cambridge has a large staff of highly experienced and dedicated Home Equity Conversion Mortgage (HECM) counselors available to help you understand all aspects of the Reverse Mortgage loan process, so you can make an informed decision. In fact, our reverse mortgage counseling division is one of the largest at any one agency in the country! We are approved by the U.S. Department of Housing and Urban Development (HUD) and the Massachusetts Executive Office of Elder Affairs as a Reverse Mortgage Counseling agency. We offer both face-to-face counseling for residents of MA and CT and are approved to provide phone counseling on a national level. Our counselors are available Monday through Thursday from 8am to 8pm, and Friday from 8am to 5pm, Eastern Time.
Download reverse mortgage brochure.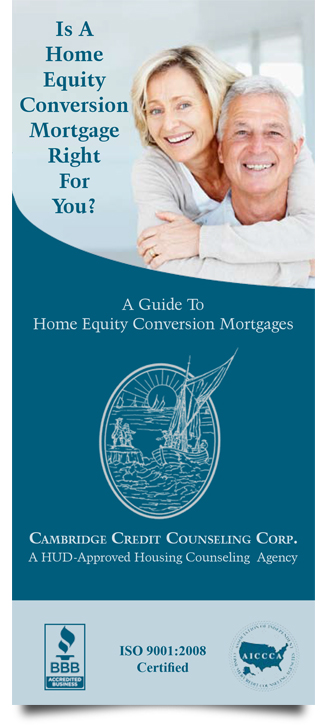 Schedule a Reverse Mortgage Counseling appointment today!
Why choose Cambridge Credit Counseling?
Cambridge has been providing consumer credit counseling and financial education services nationwide since our inception in 1996. Our nationally certified counselors are among the most respected in the profession, averaging more than 12 years' experience in helping people get out of debt. Cambridge is a 501(c)(3) non-profit agency with an A+ Better Business Bureau rating, and we're proud to be the top-rated credit counseling agency by ConsumerAffairs.com. Cambridge is also a HUD-approved housing counseling agency, and we provide both bankruptcy and reverse mortgage counseling services. For a complete listing of license information, please visit our credit counseling disclosures page.